En svensk kriminel gav navn til Stockholmsyndromet
Torsdag den 23. august 1973 er forretningerne netop åbnet i centrum af Stockholm. Den svenske industriferie er forbi og forretningerne er godt i gang med sommerens udsalg. I Kredit Banken på Normalmstorget forbereder man sig på en travl dag med mange kunder. Et helt andet sted i Sverige sidder en kriminel og afsoner en dom for tyveri. Han hedder Clark Olofsson.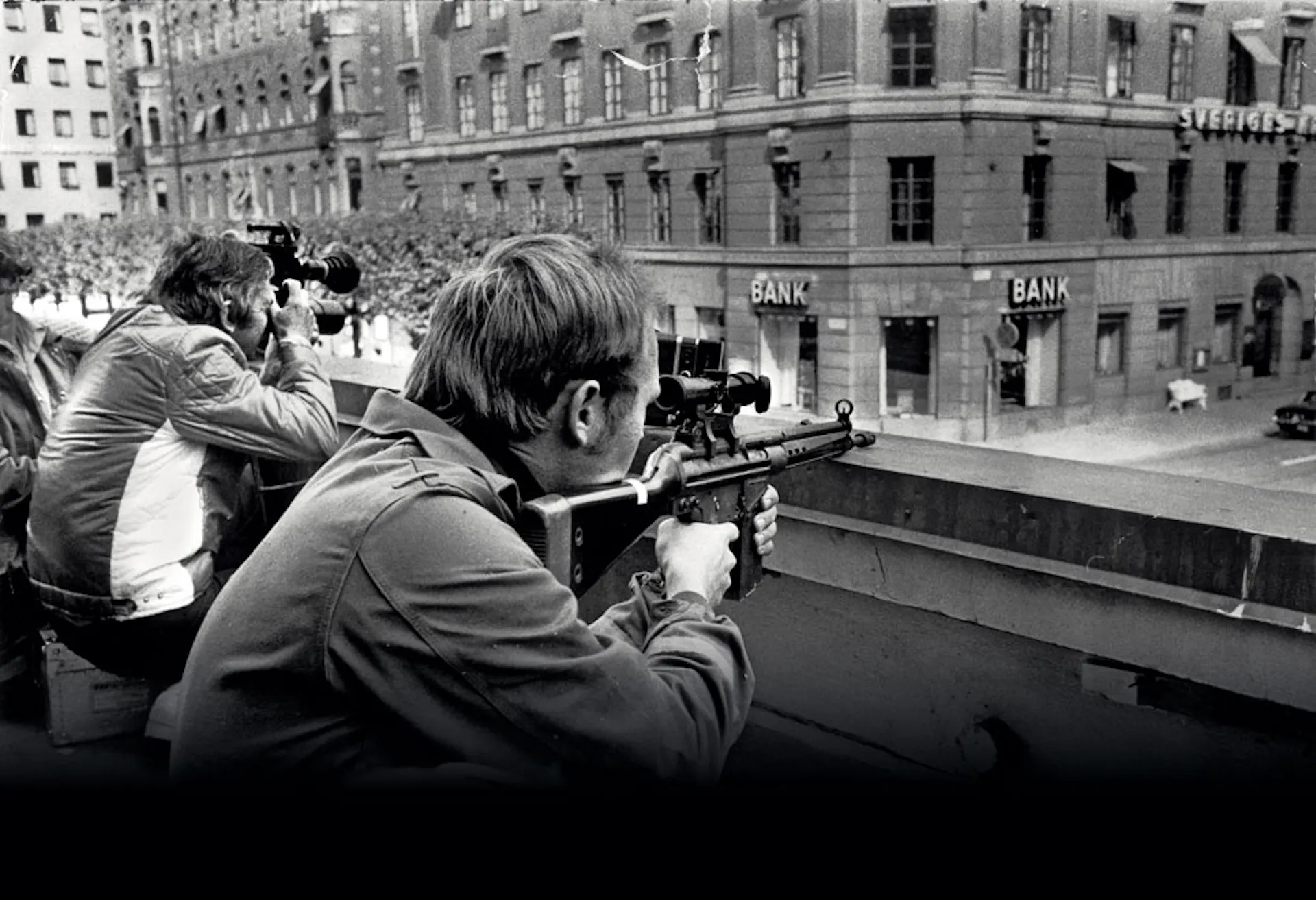 "The party has just begun!"
Klokken 10:15. træder den 32-årige Jan-Erik Olsson ind i banken. Da han når frem til kassen trækker han en maskinpistol op af tasken og affyrer en salve op i loftet. Da ekkoet fra skuddene har lagt sig, proklamerer han højlydt og ildevarslende: "The party has just begun!"
Hvad der var Jan-Erik Olssons ville? Ville Jan-Erik Olsson røve banken? Eller ville han tage gidsler?  Få timer senere befinder Jan-Erik Olsson sig lukket inde sammen med fire bankansatte i bankens bokslokale. Et lille mørkt rum på knap 46 kvadratmeter. Uden vinduer langt inde i bankbygningen.
Et gidseldrama
Fra at være et banalt bankrøveri udvikler situationen sig til et gidseldrama og en mediebegivenhed, der bliver transmitteret via TV til store dele af verden. Efter nogen tid kræver Jan-Erik Olsson en kammerat frigivet fra fængslet i Norrkøbing. Politiet parerer ordrer og bringer kammeraten til banken. Hans navn er Clark Olofsson.
Knap fem døgn efter, at Jan-Erik Olsson har haft sin entré i Kredit Banken, anbringer politiet en betonklods i lejligheden lige over bankboksen. Med et trykluftbord distraherer de gidseltagerne med en øresønderrivende larm. På få minutter borer politiets teknikker et lille hul ind i boksen. Sekunder efter pumper politiets teknikere kvalmegas ind i boksen. Gidseltagere og gidsler var hurtigt ude af bankboksen. Og uden særlig dramatik blev de to kriminelle pågrebet. 131 timers nervepirrende gidseldrama var slut.
Sympati mellem gidsler og gidseltagere
Politiets forbløffelse var stor, da man afhørte de to kvinder og de to mænd som havde været taget som gidsler. Gidslerne havde nemlig fundet mere end almindelig sympati over for de to gidseltagere. De fire gidsler havde rent faktisk opfattet politiets forsøg på at få dem frigivet, som mere livstruende end den trussel som gidseltagerne repræsenterede. Ikke alene havde der været sympati imellem parterne, der gik også rygter om at der havde været et seksuelt forhold imellem den ene gidseltager og et af gidslerne.
Stockholm syndromet
I 1978 navngiver den amerikanske psykiater Frank Ochberg fænomenet som Stockholmsyndromet, opkaldt efter gidseldramaet i Kredit Banken. Men længe før Ochberg har Siegmund Freud beskrevet fænomenet under begrebet identifikation med aggressor. Anledningen til Ochbergs interesse for fænomenet er dramatisk. I 70erne var verdenssamfundet plaget af internationale terroraktioner, gidseltagning og kidnapning af politikere og forretningsfolk. Men hvad var det som skete i bankboksen og som flere andre gidsler ved andre gidseltagninger havde oplevet i forbindelse med  isolation sammen med gidseltagerne?
Et naturligt psykologisk forhold
De 131 timer havde bragt gidseltagere og gidsler sammen i et, for situationen, naturligt psykologisk forhold. Forholdet var betinget af den fælles krise som gidsler og gidseltagere oplevede. Under det ubeskrivelige stress mennesker udsættes for under en gidseltagning, ophører rationelle opfattelser af hvad der er lovligt og ulovligt. Og hvad der er rigtigt og forkert. Frygten for at lide en voldsom død trænger normale moralske betragtninger i baggrunden og erstattes af en solidaritet om den sag, som forbryderne med vold har iværksat.
Det er ikke blot fra gidsler til gidseltagere, men også omvendt. Forbryderne bliver også ofre for fænomenet, hvilket gør det vanskeligt for dem at eksekvere en likvidering.  Derfor er det vigtigt for politi og myndigheder at trække tiden ud så længe som muligt i forbindelse med en gidseltagning. Jo længere tid der går, jo større sandsynlighed er der for, at der opstår sympati og relationer mellem parterne og jo vanskeligere vil det være for gidseltagerne at gøre alvor af deres trusler.
Gidslerne er medsammensvorne
Men politiet skal samtidig være opmærksom på, at man ikke kan forvente hjælp fra gidslerne i forbindelse med en undsætning. Stockholm syndromet forhindrer gidslerne i at se klart i selve situationen. Gidslerne bliver en slags medsammensvorne.